Preschool
It's been a wonderful week of fun in the sun for HES preschoolers. We've taken advantage of mild temperatures and we're enjoying all of the outside time we can get! Whether it's riding bikes, playing Duck Duck Goose, or having fun on the climber, our littlest learners know how to make things exciting! I love watching our kids on the playground because they tend to find different friends to explore with outside their usual classroom cohorts. It's always a surprise to see what they come up with!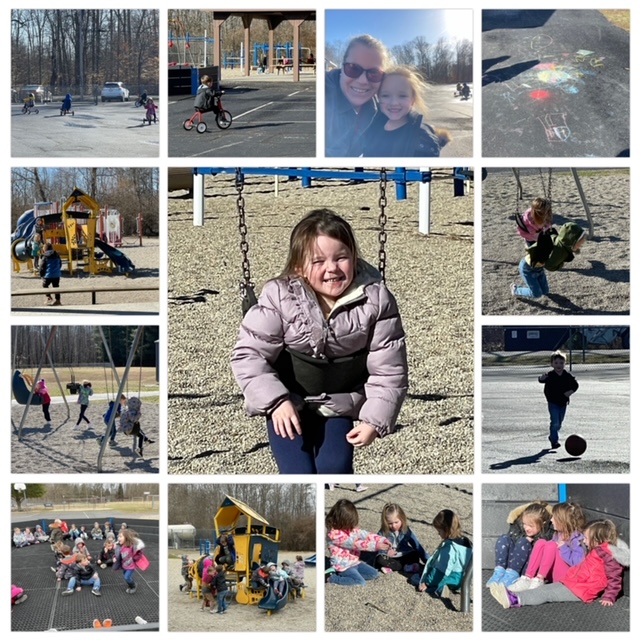 ---
Kindergarten
In OG,
We are learning about the letter Yy.
We are learning how to blend and segment words with the letter Y.
We are reading, spelling and writing words with the letter Yy.
We are learning the red words: new, now
In Math,
We are learning addition math facts and preparing to take our first math fact timed test.
We are creating math story problems and solving the problems with our peers.
In Writing,
We are making our writing easier for others to read by spelling red words correctly and writing the sounds we hear in the words we are writing.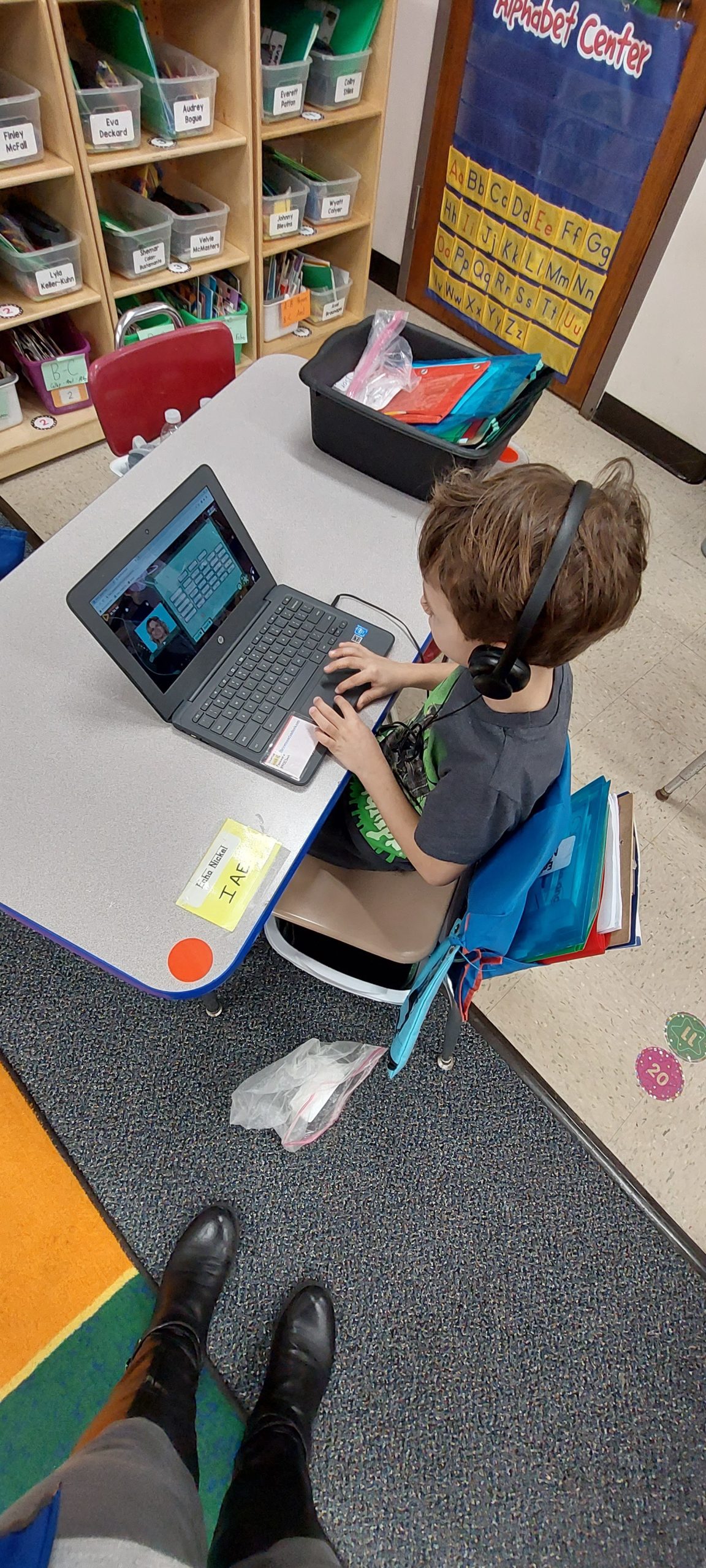 1st grade
First graders celebrated the 120th Day of School this week. They were secret agents and completed missions to rescue Zero the Hero and save the 120th Day!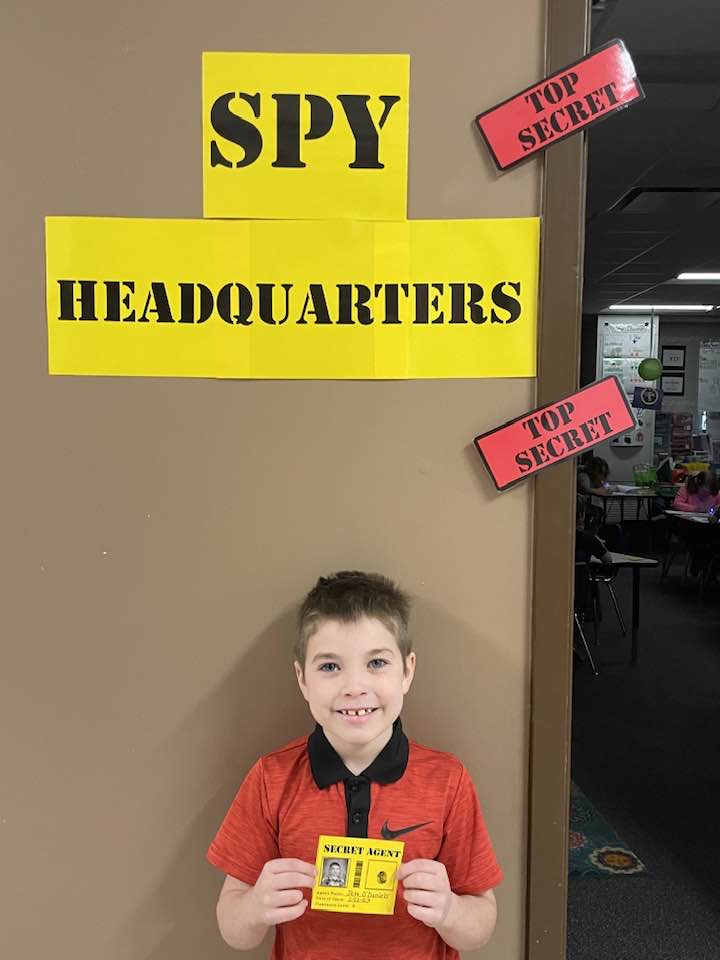 On the 120th Day of School. Our first grade class became secret agents. Zero the Hero (from a book we read) was kidnapped by number 119. The secret agents had to complete several missions in order to save Zero the Hero. First, all of of the kids had to make their badge with their picture and fingerprints. Then they began their missions.
Our first mission involved writing the numbers 1-120 with our invisible spy pens and using the UV lights to read them. We had a lot of fun with these.
Our second mission involved using magnifying glasses to look at numbers through 120 with place value blocks. Our third mission involved finding fingerprints on cups. We brushed them with powder and used black light flashlights to see them. We watched a really interesting video about fingerprints too. Last we had a delicious snack with twelve different items. In the end, we saved Zero the Hero!!!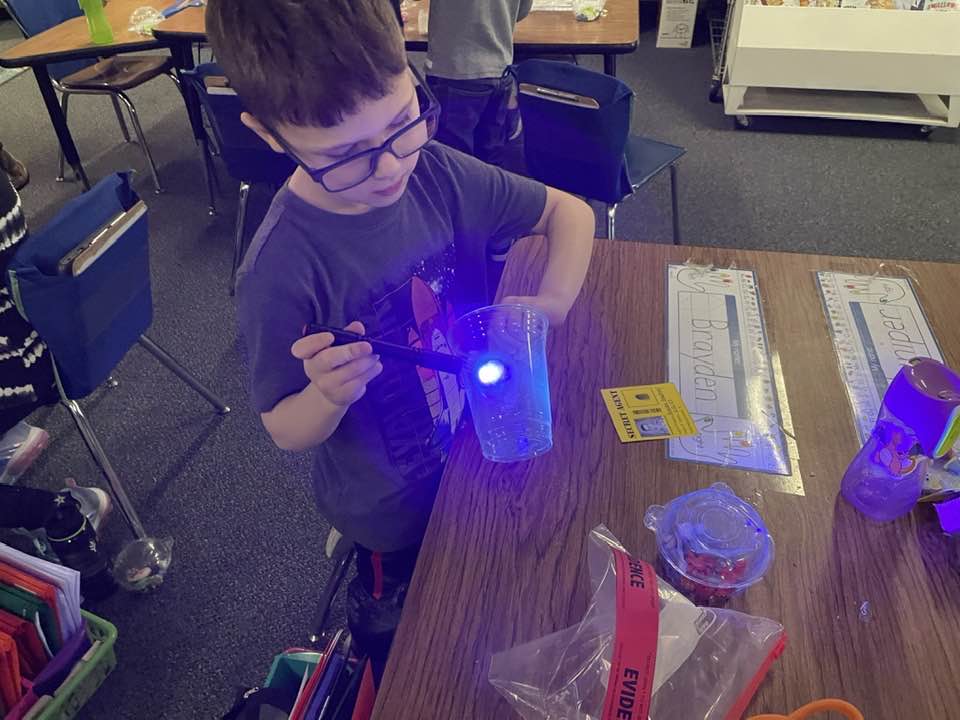 ---
2nd grade
In math we are working on telling time to the 5 minute intervals. In reading we have been learning about historical figures as we read the book "John, Paul, George and Ben". We have dived into the causes for the American Revolution (ie Boston Tea Party/taxation). Phonics/OG we are working on the Suffix -ing and how consonants are doubled at the end or not. We are working on nonfiction, asking and answering questions for writing.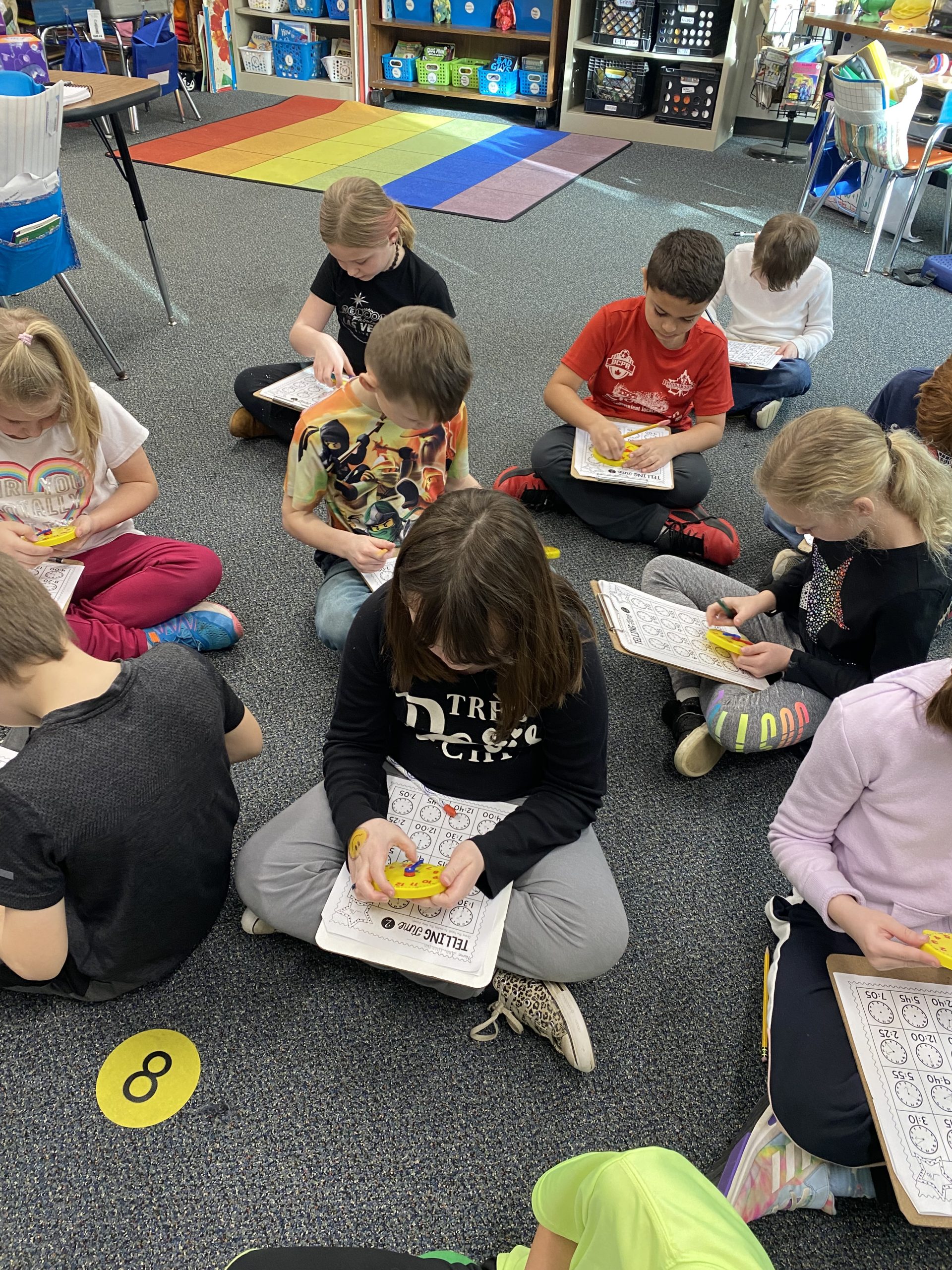 ---
3rd grade
This week third grade students are working on their typing skills. In writing they are typing their informational reports. In social studies they completed slides over two new careers, musician and accountant. We had a special guest come in to share information about being a bank teller and accountant. In math we are learning all about fractions.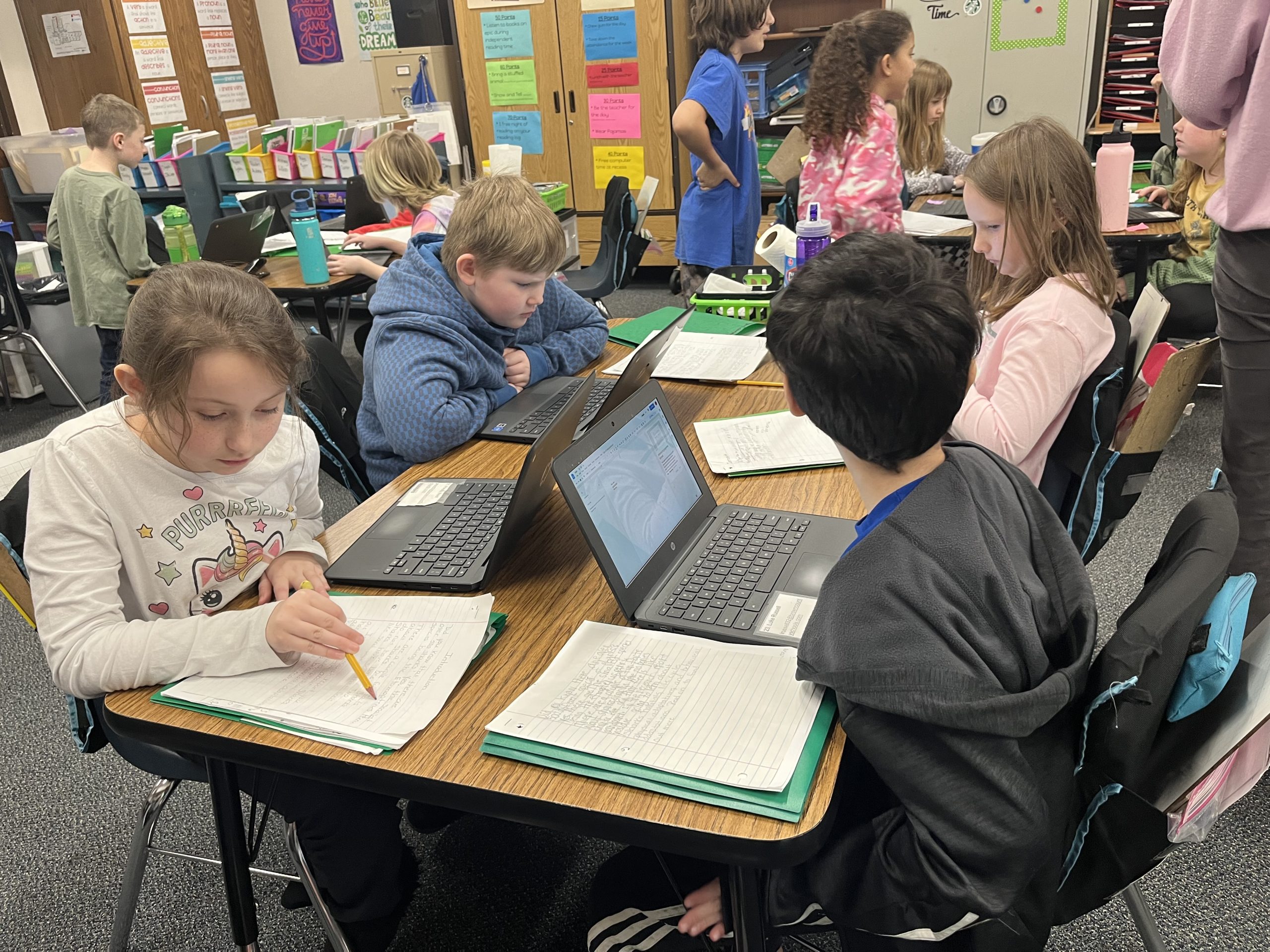 ---
4th grade
Mrs. Joy's class has been practicing our multiplication facts by playing bullseye!
We love this new game!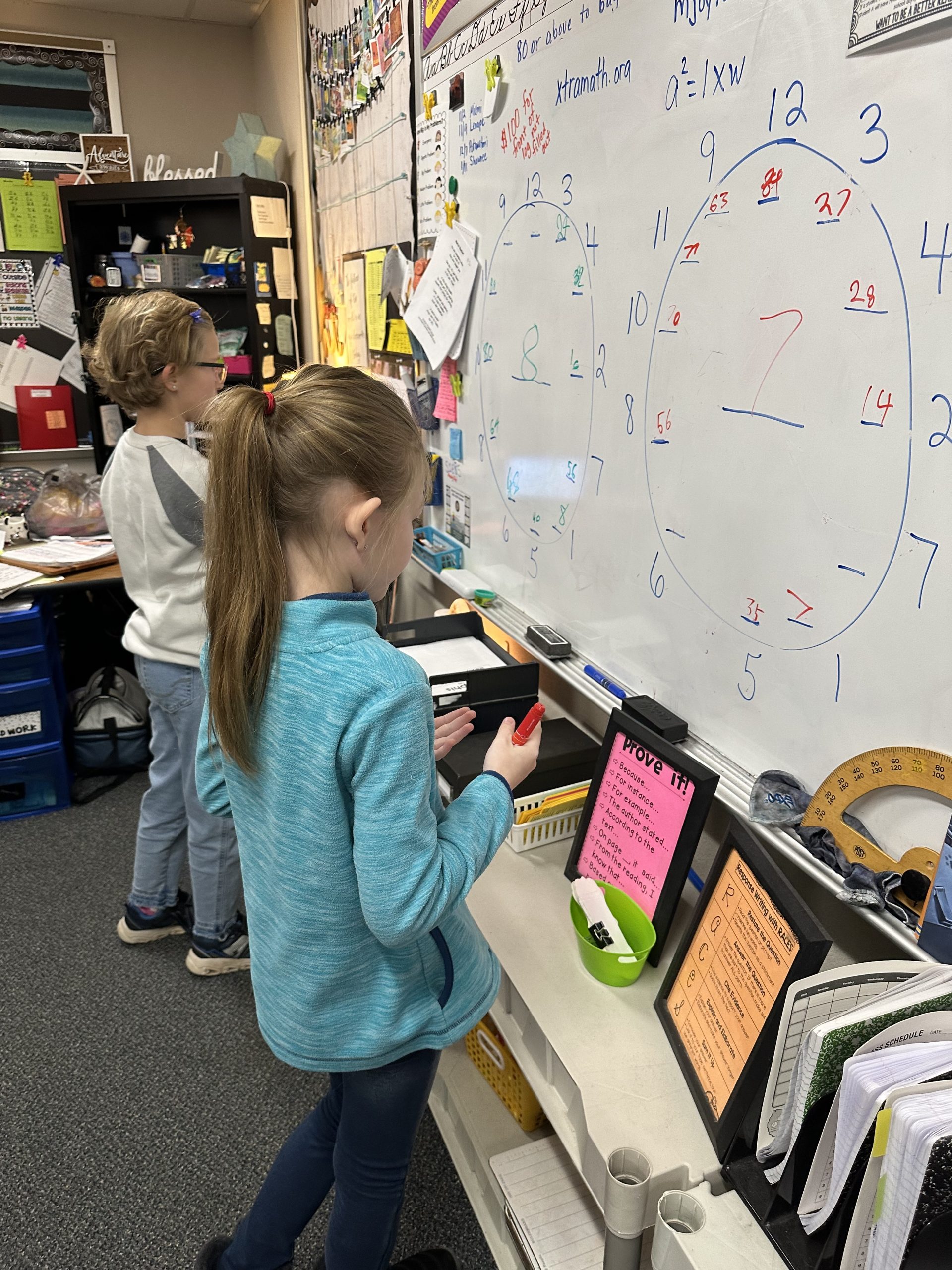 ---
5th grade
This week, the 5th graders continued working on their persuasive essays. Students have been hard at work finding research to support their arguments, and have been learning all about different persuasive strategies to try in their writing.
In Biztown, we have been learning about free enterprise and the circular flow of economy. Students discussed the different types of goods and services that we can find at local businesses. We then identified the types of natural, capital, and human resources that these businesses need. Students also acted as producers by working in groups to make a prototype of a paper product of their choice. They then had to market their product to others, and determine what its value truly was.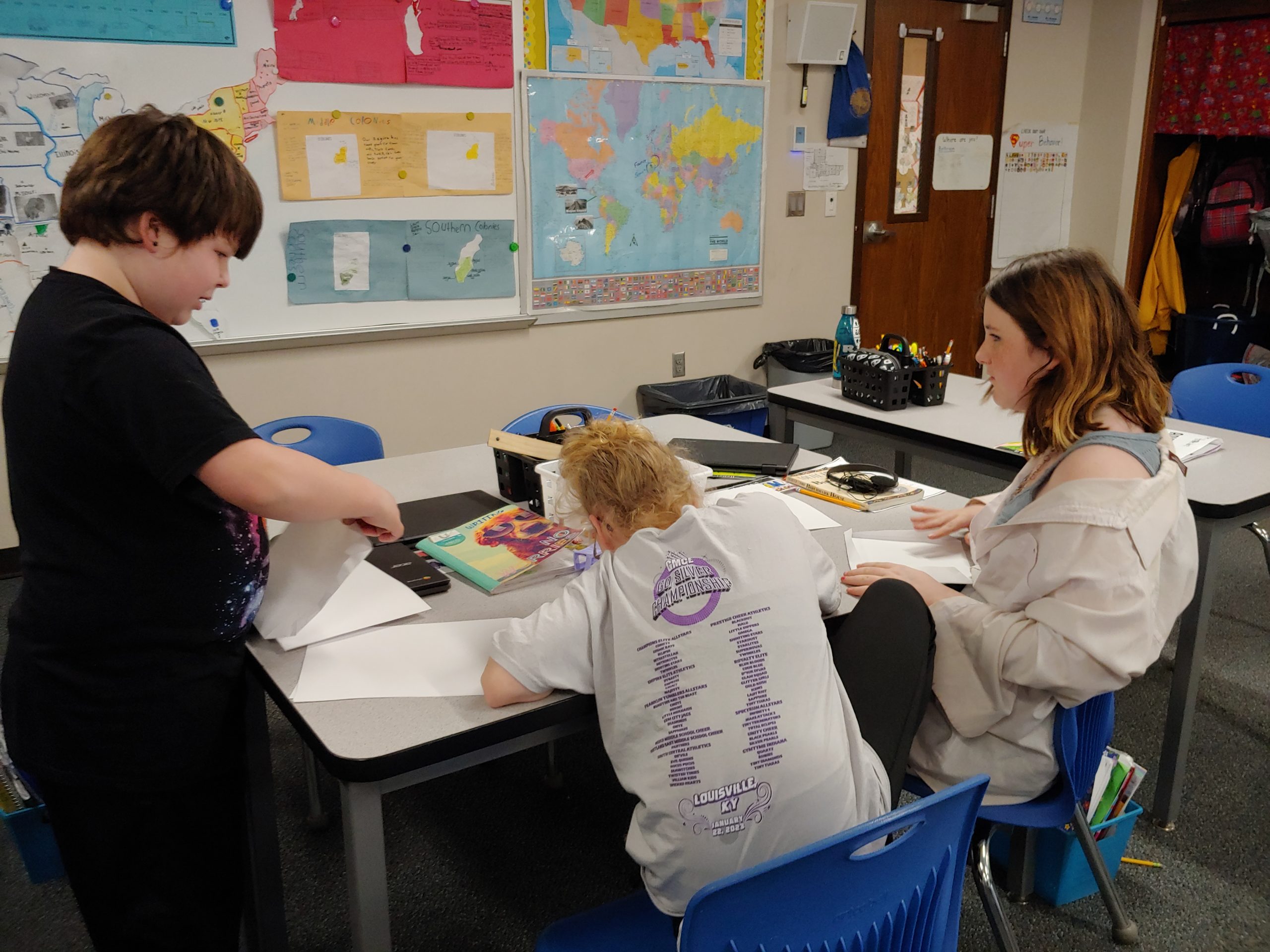 ---
PTO
Our next Movie Night will be February 24, 2023 from 6:00 – 7:30 p.m.
---
Science
Scientist of the Week: Makenzie Sharp
This week fifth grade science students explored just how salty the ocean is even though we can't see the salt. Students created model oceans to observe how salt seems vanish when dissolved in water. They then measured and graphed the quantities of the water and salt to provide evidence that, even though we can't see it, salt still weighs the same amount. Students also created a model salt flat, allowing the water to evaporate, leaving the salt behind.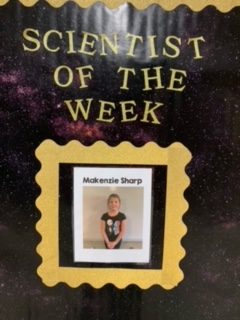 ---
Speech and Language with Mrs. Williams
Go Fish is one of my favorite ways to work on articulation skills! It's a great way to work on speech sounds in single words and phrases.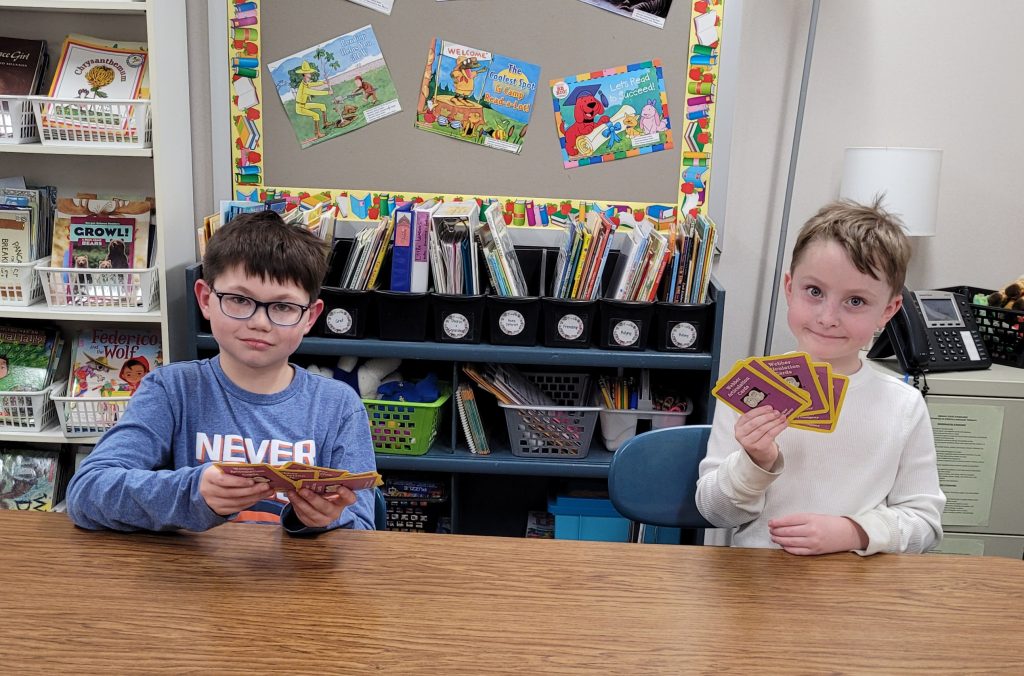 5th grade Ambassadors
We wrapped up the food drive for Mother's Cupboard this week, and it was a huge success! We collected 1,664 items in all! Thank you to everyone who donated! The student ambassadors are so excited to deliver all of the items, and we are so grateful for the impact that this will have on the Brown County community.  The Ambassadors helped deliver the food and took a tour of Mother's Cupboard. "No one should ever go hungry!"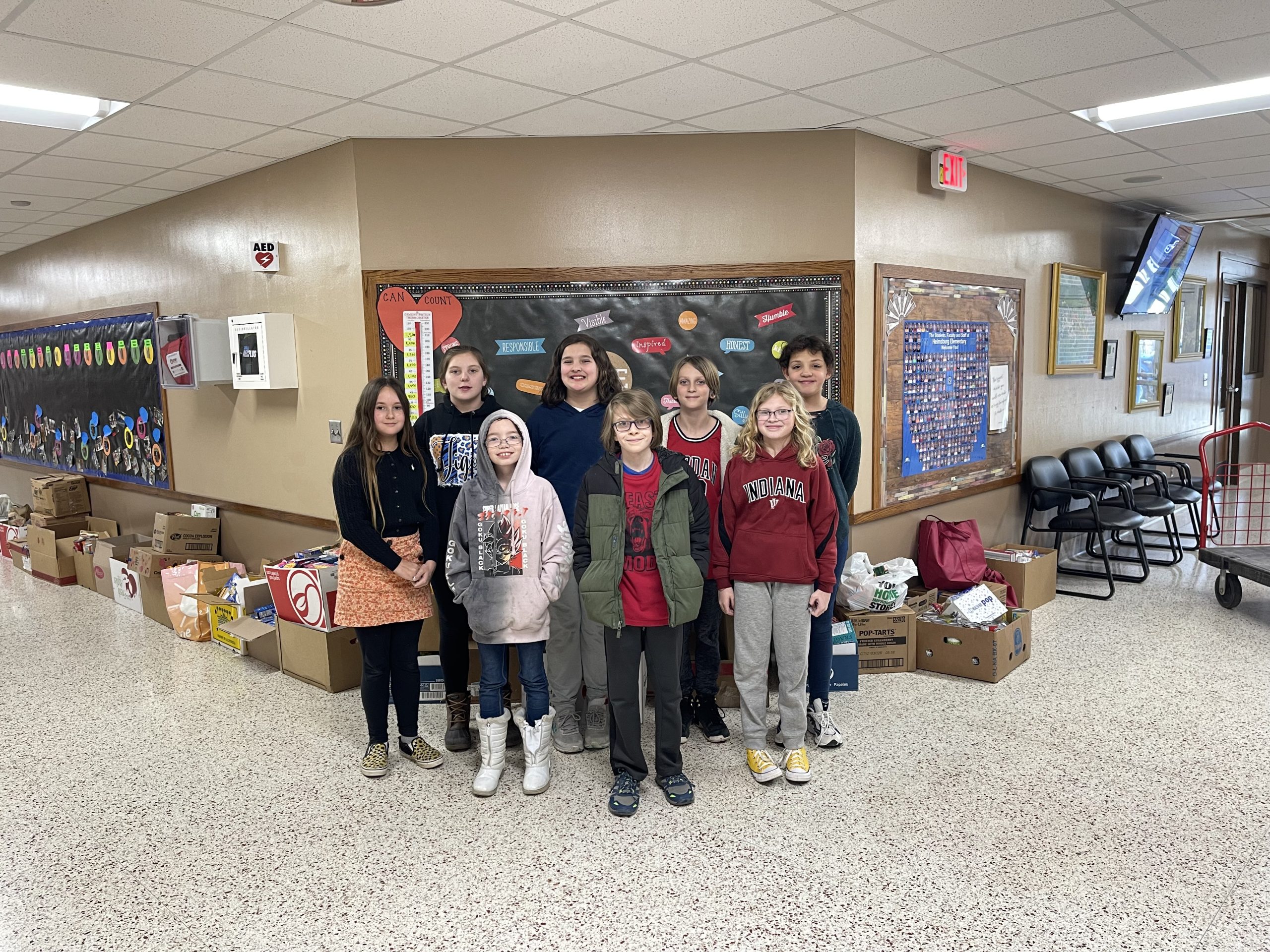 ---
Art with Mrs. Schwenk
This week in art class, students finished up their art show projects and then had fun drawing colorful tree snakes.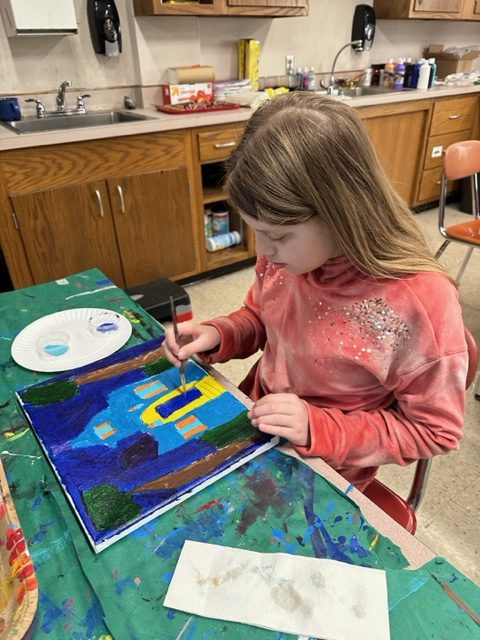 ---
PE with Mrs. Doss
This week in PE we played some fun tag games and enjoyed being out in the warmer weather! We also brushed up on our basketball skills to prepare for our March Madness tournament!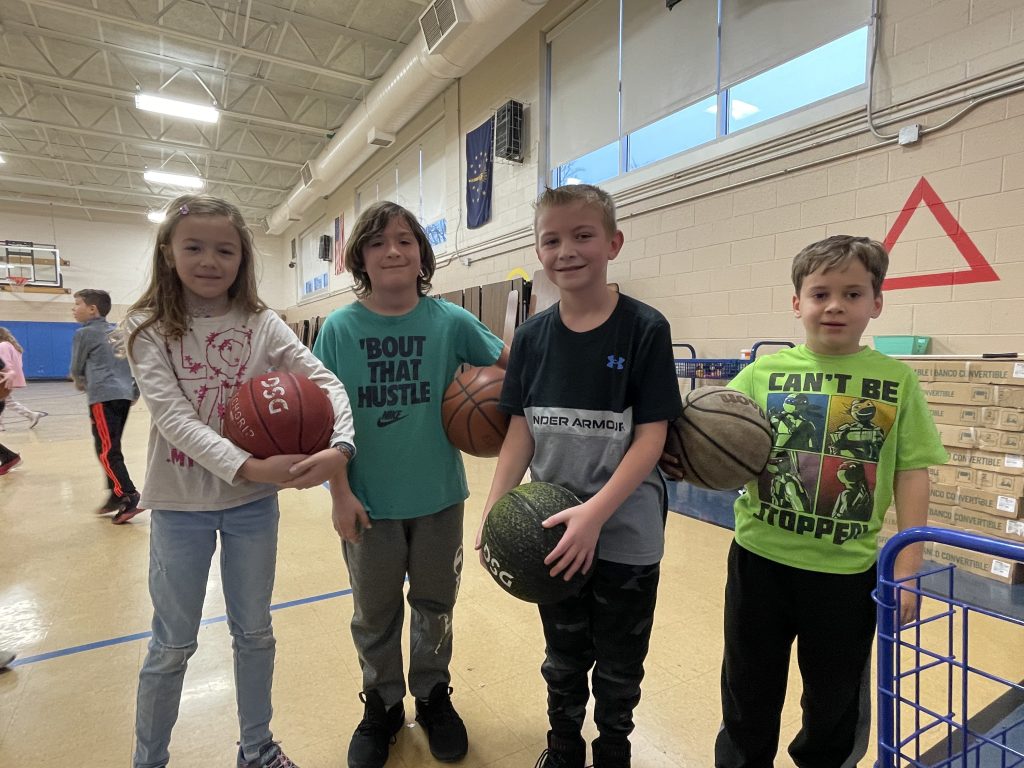 ---
Music with Mrs. Newlin
2nd grade Mrs. Baughmens class posing with their mallets after learning about musical duration.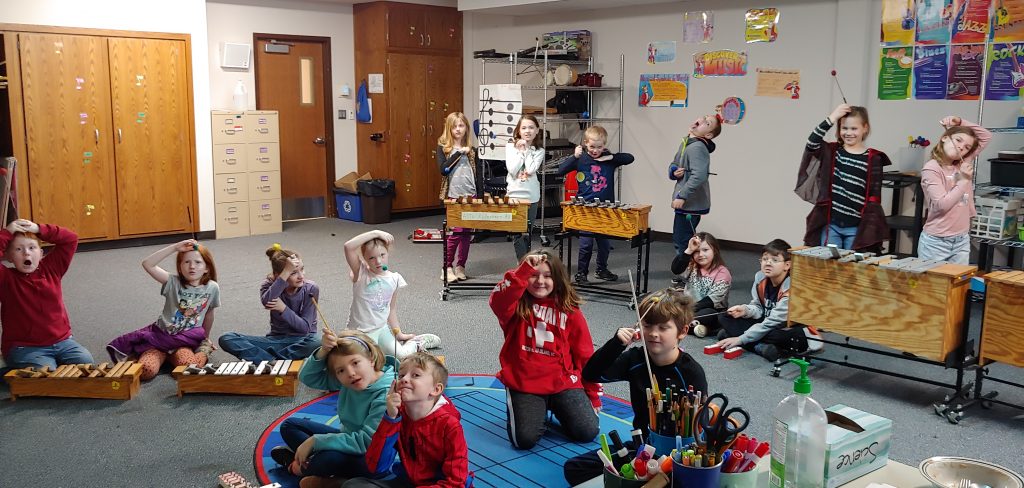 ---
Beable and the World of Work
Brown County teachers had the opportunity for Professional Development this week! We learned a lot about BEABLE and the World of Work!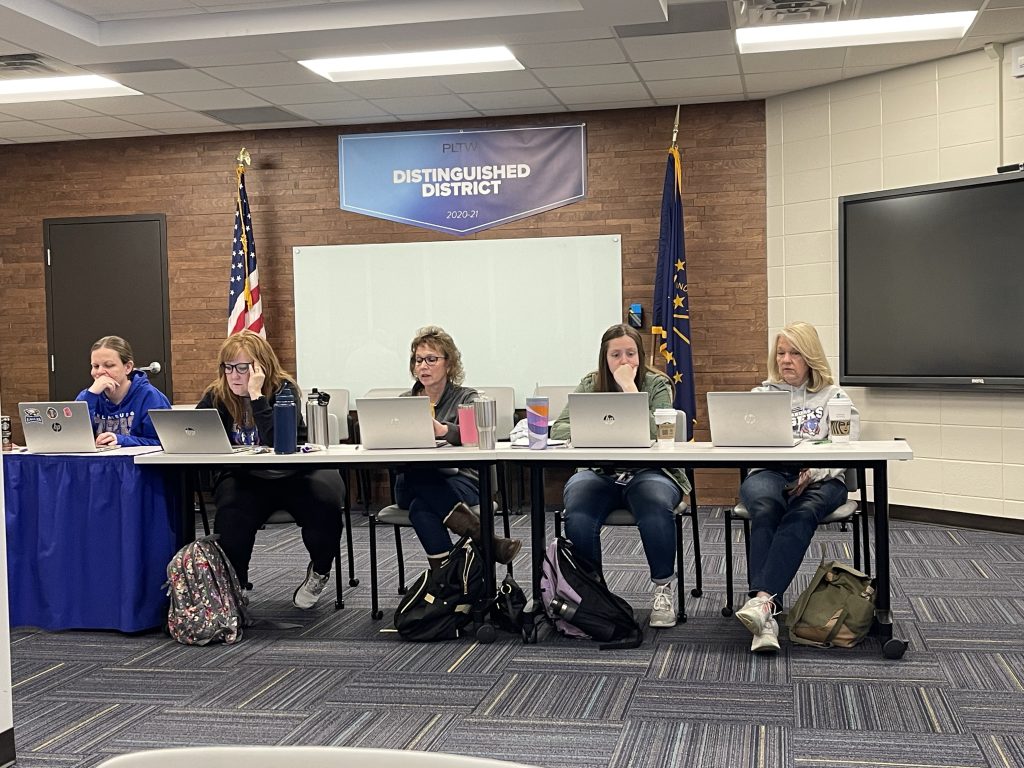 ---
Teacher Spotlight #TigerPride