News from the Athletic Office
*The softball team had a HUGE win (10-9) over Bloomington North HS on Thursday (5/11) night!
*Chase Austin, shown below, won the 1-mile at the WIC track and field championships with a blistering time of 4:24!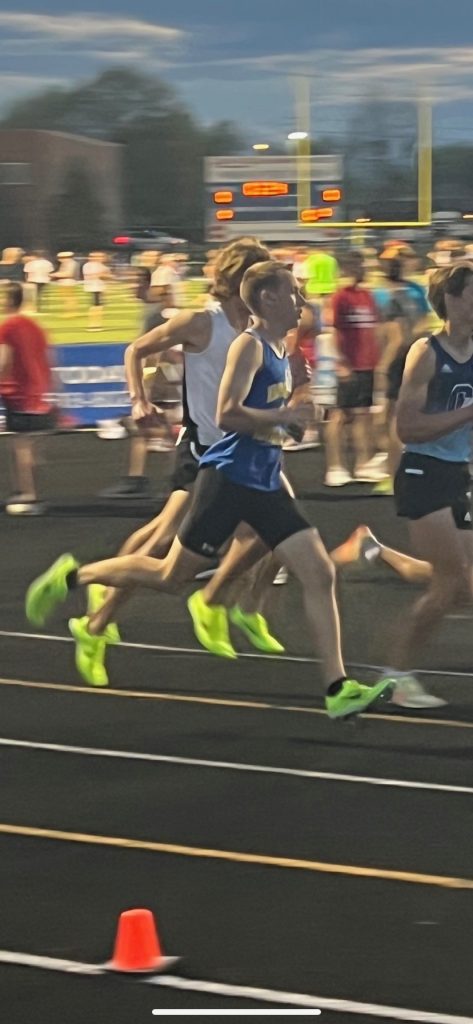 *Also from the WIC boys' meet: the 4×800 relay finishing 3rd in 8:33.27. Members of that squad were Rafe Silbaugh, Case Smith, Cord Smith, and Chase Austin. The Eagles got a couple points from the 4×100 relay as they finished in 7th with a 48.05. Jacob Finley led that relay off, and following him were Jesse Hubbard, Landon Scott and Eli Webb. Ethan Spiece continues to drop time in the 400. Running in the second heat he beat several from the fastest heat and placed 6th in 54.67. Silbaugh placed 5th in the 800 as he ran a 2:06.25.The final scoring event on the night was the 4×400 who placed 4th. Silbaugh, Spiece, Cord Smith, and Ausin finished in a time of 3:39.05. The Eagles got several points in the field for the night. Case Smith jumped a season-best 5-8 to tie for 4th in the high jump. In the throws, Wyatt Sutter took 3rd in the discus with a 124-4.5. Fellow thrower, Wyatt Barnett took 6th in the shot put with a throw of 42-3.5. The Eagles also got a score from Kai Koester in the pole vault as he finished in 6th at 9-0.
*Notes from the girls' track and field WIC Championships held on Tuesday night:
The Girls Track and Field Team competed at Edgewood for the Western Indiana Conference Meet on Tuesday night. Hadley Gradolf led the Eagles with a season best time in the 1600 which placed her 5th amongst the competitive field. She came back with a 4th place finish in the 3200m Run. Alli Majors set her season best in the prelims of the 100m Hurdles which qualified her for the Finals where she took 7th place. Madalyn Purlee ran her fastest time of the season in the 800m Run which was an 8th place finish. The 4x800m Relay team of Purlee, Austin, Hiatt and Cumberledge scored a point for the team by finishing 8th and the 4x400m Relay team of Purlee, Austin, Majors and Gradolf finished 7th place scoring 2 points for the teams. The distance squad stepped up and ran season bests that include Megan Cumberledge in the 1600m Run, Livie Austin in the 800m Run, Sadie Hiatt in the 3200m Run.
What's Happening Next Week?
Monday, May 15, 2023
6:30pm – National Honor Society Induction Ceremony (HS auditorium)
Tuesday, May 16, 2023
5:30pm – Track & Field (Co-ed V) – Girls' Sectional at Bloomington North HS
5:30pm – 7:30pm Baseball (Boys V) – Cloverdale High School (H)
5:30pm – 7:30pm Softball (Girls V) – Cloverdale High School (H)
6:00pm – Spring Band Concert
Wednesday, May 17, 2023
4:30pm – 6:30pm Golf (Boys V) – Indian Creek/ MCA (H)
6pm – Summa Cum Laude Banquet @ Season's Conference Center
Thursday, May 18, 2023
5:30pm – Track & Field (Co-ed V) – Boys' Sectional at Bloomington North HS
4:00pm – 6:00pm Golf (Boys V) – Eastern Greene High School (A)
5:00pm – 7:00pm Softball (Girls V) – Trinity Lutheran High School (H)
6:00pm – 8:00pm Baseball (Boys V) – Madison Consolidated High School (A)
Saturday, May 20, 2023
1:00pm – 3:00pm Golf (Boys V) – New Castle Invitational (A)